Hello,
See our latest find:
"MORE Technologies last week launched a Kickstarter campaign to raise US$20,000 for development of its open source robot ecosystem."
It comes from this article. How do you think kids will benefit from this campaign?
BTW – We have NEW Jobseekers ticket type for all our Tech Job Fairs, for more info please check event pages: http://techmeetups.eventbrite.com/
Best regards,
Silvi
CATCH UP WITH OUR SHOP
Wireless Bluetooth Speaker: Take Your Music Anywhere
Wooden Stand Mobile Holder: Keeping Your Device Beautiful and Clean
Led Desk Lamp: Your Personal Light Assistant
CAREER ADVICE FROM TECH STARTUP JOBS
Job Search Tips: How to Make the Process Fun and Useful
Waiting to Hear Back After The Interview
How to Write Thank You Notes After the Interview
STAY UP TO DATE WITH TOP NEWS
Google Stadia: Future of Gaming or Pie in the Cloud?
Apple Boosts Performance in New iPad Air and Mini
New Chrome Extension Aims to Make the Web Less Toxic
WORK ON YOUR ENTREPRENEURIAL SIDE
10 Traits All Successful Entrepreneurs Share
This Is How the Richer Get Richer (and How You Can Do the Same)
3 Pillars Your Company Needs to Master in Order to Succeed
GET BETTER AT YOUR JOB
5 Ways to Hone Your Intuition For Business Decisions
6 Techniques to Better Your Problem-Solving Skills
How to Get Your Idea in Front of More People Now
BOOK OF THE MONTH
Coming from the famous Peter Thiel, the Zero to One book on startup delivers some down-to-earth practises of creating your own business. If all you can think about in 2019 is your startup, Zero to One is your must read in January.
CHECK OUT THESE EVENTS COMING UP
Whether you are looking for a job or recruiting, be part of Tech Job Fairs by Techmeetups.com in London, Dublin, Barcelona, Zurich, Amsterdam, Berlin, Munich, Stuttgart, Frankfurt, Lisbon and NYC!
London:
UX, Ui and Coding: 4-day course (by professional designer with over 15 years of experience) – 18 – 21st March
How to Build Successful Subscription Business Models w/ Spotify & Chargebee – 26th March
The Business Savvy HR Director: From Research to Practice – 27th March
Marketing Technology Expo – 27th March
Barcelona:
Inbound Marketing to build Relational Personal Brands – 26th March
How to SET UP a Company in Spain: Step by Step (LEGAL PROCESS) – 27th March
Barcelona Tech Job Fair 2019 – 4th April 2019
Zürich:
It is time to forget! – 25th March
The Lady Boss Business Club Networking Evening -By SEM – 28th March
Zurich Tech Job Fair 2019 – 16th May 2019
Munich:
Women in Big Data @Globe Business College – 28th March
How Corporates can work together with Startups – 28th March
Roadshow: Digitize your business – 29th March 2019
Dublin:
Careertrotter Dutch/German networking event – 27th March
Fidelity Investments Resume – Return to Work Event – 27th March
SIFI: Building Fintech Ecosystems – 28th March 2019
Berlin:
Creating a KickAss Product Experience w/ Blinkist & Billie – 26th March
Hardware nation: Building companies – distribution, launch, and traction! – 28th March
Berlin Tech Job Fair 2019 – 28th March 2019
Amsterdam:
Learn Product Development Principles – 27th March
People Centered Economy – 28th March
Amsterdam Tech Job Fair – 29th November
Lisbon:
Conference "Society 5.0: The Challenge of Sustainable Smart Societies" – 25th March
PowerBI & AI Competence Center Presentation – 28th March
Lisbon Tech Job Fair Spring 2019 – 30th of May 2019
Frankfurt:
Accelerating Green Innovation – 28th March
IT Business and Gender – We have to improve it together – 28th March
Frankfurt Tech Job Fair Spring 2019 – 16th May 2019
New York:
New York Job Fair March 27, 2019 – Hiring Events & Career Fairs – 27th March
Ladies Get Paid & Squarespace: Know Your Worth, Show Your Worth – 27th March
How to Become Certified As a Minority and Women-owned Business Enterprise – 28th March
Stuttgart:
Leaders in Tech | Stuttgart – Pair Programming – 28th March
IBM Digital Retail @ INFOMOTION Digital Innovation Lab – 28th March
Stuttgart Tech Job Fair 2019 – 23rd May 2019
If you have a free event and would like to promote it to the community let us know!
BECOME A VOLUNTEER IN OUR EVENTS
Please contact social@techmeetups.com
BROWSE HOTTEST JOBS IN TECH STARTUPS
London
Barcelona
Zurich
Munich
Dublin
Berlin:
Amsterdam
Anywhere:
More jobs and career opportunities on from our clients on Tech Startup Jobs!
LEARN MORE ABOUT EMPLOYERS LOOKING FOR YOU
JOIN BERLIN TECH JOB FAIR 2019 HERE:
Partners:
Berlin Blockchain Week – Decentralized 5-Day Satellite Events.
JOIN BARCELONA TECH JOB FAIR 2019 HERE: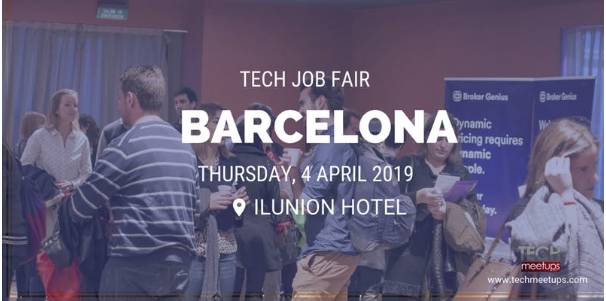 Partners:
Barcelona Graduate School of Economics
Barcelona Metropolitan
JOIN AMSTERDAM 2019 HERE:
JOIN ZURICH TECH JOB FAIR 2019 HERE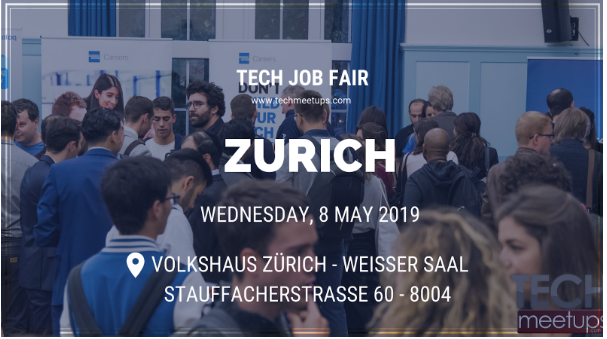 JOIN FRANKFURT TECH JOB FAIR 2019 HERE
Partners:
WeWork is a global network of workspaces where companies grow together. Teams of any size can find refreshingly designed collaborative space, private offices, and meeting rooms that energize their employees and their guests.
JOIN STUTTGART TECH JOB FAIR 2019 HERE
JOIN LISBON TECH JOB FAIR 2019 HERE
JOIN LONDON TECH JOB FAIR 2019 HERE
JOIN BARCELONA TECH JOB FAIR 2019 HERE
JOIN MUNICH TECH JOB FAIR 2019 HERE
Partner:
smartvillage  – Winner Best Coworking Space in Munich
JOIN ZURICH TECH JOB FAIR 2019 HERE
JOIN BERLIN TECH JOB FAIR 2019 HERE
JOIN AMSTERDAM TECH JOB FAIR 2019 HERE
Follow us on Social Media
TechMeetups Facebook | Twitter | Instagram